[作戦終了?]喜多川翔太
[
Strategy Terminated?
] Kitagawa Shouta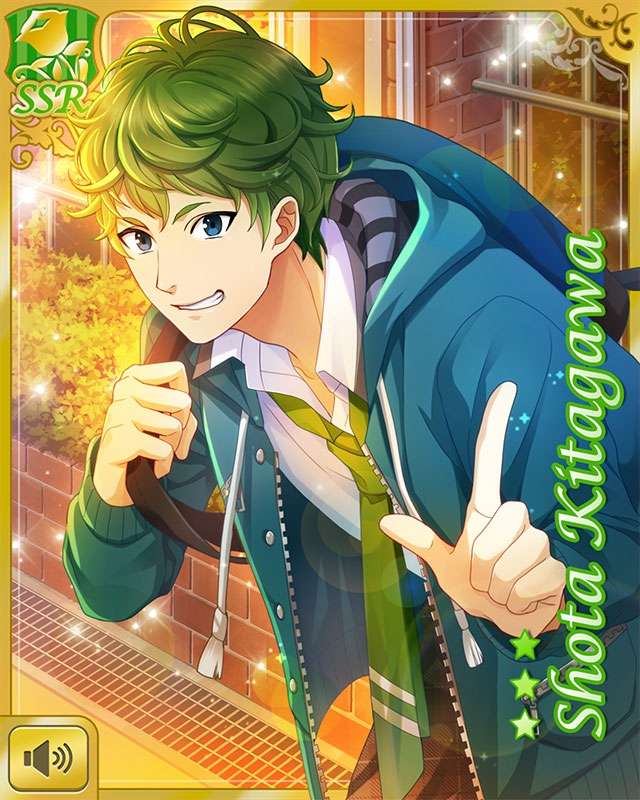 CV: KENN
"I got a boyfriend" strategy!!
Proofreading Credits:
~ Mizu 水野はな ~
from
Boyfriend(Beta)
Chapter 1
Hmm, this is troubling…….
Mokona, what's wrong. Worried about something~?
What is it, what is it, if you'd like you can consult me about it~!
Th-, thank you. It's actually not much of a problem…….
As a matter of fact, recently, there's a first year boy who wants to be acquainted with me…….
I've already refused, but even after that he still continued…….
He said that he won't give up until I get a boyfriend…….
Heh~! Nowadays, carnivorous type guys who confess repeatedly are rare~.
I don't really hate that boy but…….
But, I think I still need to respond to his feelings properly…….
I have to admit that guy has guts but occasionally, it's important for guys to pull back~!
Al~right, I thought up of a good idea!
He said that he'll give up if you get a boyfriend right,
Let's finish it up quickly by getting you a boyfriend~!
No, I didn't mean that you should actually get a boyfriend~!
I'm saying that you can just get a "pretend" boyfriend!
I call it, "I got a boyfriend strategy"!
Of course, the one who'll become your boyfriend is me!
What kind of strategy is…..."I got a boyfriend strategy"!?
Kitagawa Shouta
Today, at this moment, we will be acting like lovers!
That's the "I got a boyfriend strategy"!
Wh-, what wll be out goal with that?
Your partner will be Fujishiro's student as well, right? We just have to show that we are intimate with each other!
Because he said that he'll give up if Mokona gets a boyfriend,
It will end quickly if he thinks that I became your boyfriend, right?!
Al~right! Now that's it's settled, let's start getting into lovers mode!
Eh, we're starting already!?
Speaking of when to start anything, I think it's always better to do it sooner.
If we postpone it any longer, the result will come later too~!
I see, now that you mentioned it, you're right…….
In that case, entwine your hand around my arm~!
I, I understand……! I-, is this okay……?
O…...Oh~......! It will become unnerving when the time comes!
Even though I know it's a strategy, when you're close like this, my heart flutters!
Ah~...... this is bad! My face is burning up~......!
(I-, it's a little embarrassing but…… will this plan work?)
(It's the 10th day since we started Kitagawa-kun's strategy…...)
(Everyday, Kitagawa-kun and I have been having lunch together and going to and fro school…...)
(We're spending time with each other like real lovers but will there be any results?)
(The first year boy hasn't taken any action yet though…...)
Mokona~, I'm here to pick you up! Let's go home together today as well~!
It can't be helped that I enjoy it when I'm walking home together with you!
For the last 10 days since the strategy started, I have always been looking forward to when school ends~!
Oh yeah, why don't we drop by somewhere on the way home~?
Let's go eat some sweets at a cafe! The one that Mokona likes!
*Giggle*, you're right. I know just the right cafe!
Oh, you're really into it~! That's how it should be~!!
By the way…… when we're together like this, it really does seem like we're a real couple~.
But then, when I think that it's just a strategy, there's this lonely and painful feeling.
I wish we can just spend time for~ever like this~…….
Eh, what were you just talking about……?
Ah, no, it was nothing! Well, let's go to the cafe!
Here, let's hold hands while walking today as well!
(Eh? Someone is calling me………--)
Hmm? Just now, I heard someone calling you-- ah…….
(The first year boy who confessed to me……!)
Modoki-senpai and Kitagawa-senpai always seems to be in a good relationship…….
Perhaps, Kitagawa-senpai is Modoki-senpai's boyfriend?
That's ri~ght! We just started going out.
I'm Mokona's boyfriend! Mokona is my girlfriend!
A fully-fledged couple!
(Ki-, Kitagawa-kun put his arm over my shoulder……!)
As expected, that's how it is…… In that case, I'll give up on you, Modoki-senpai.
From his condition, I get a feeling that he really has given up!
Yea, it seems that this will be fine for now…….
…...so that means, the strategy has ended right?
Ah~....... Well, it did turn out like that~!
I see, there's no need to pretend to be couple anymore.
No, wait……! There's really no hurry to stop~.
Since we even talked about going to the cafe at this point,
As promised, today, let's just drop by the cafe on the way?
I also want to be your boyfriend for a bit longer……!
The cupcake we ate at the cafe just now is delicious!
…...Hmm~? Y, yeah! It was super delicious~!
Well, if it's the food you love, I'm always willing to eat it with you!
Er~m……! Then, I'll take you home……!
(Kitagawa-kun, since just now, felt like he has been out of it…...)
You seem like you have something going on in your mind but, is anything wrong……?
Ah…… Hahaha…….. I was found out~!
Actually, I've been thinking about you the whole time~.......
Yeah, I cannot help not to think about it or how should I put it…….
Well, because of the strategy, I was your boyfriend for awhile~
The main problem is, have you ever thought about getting a boyfriend……?
Eh, a boyfriend……? That's right…… Sooner or later I will want one.
It was fun to have a couple simulation with you, Kitagawa-kun!
Re-, really……? Haha, it makes me happy when you put it that way~!
That means…...you do wish for one, right……!
Ju-, just talking to myself! Please wait for a bit longer until I organise it in my head!
(Organise, about what……?)
Kitagawa-kun, thank you for taking me home.
Not just for today, I also want to thank you for the past 10 days too!
It was fun when I was with you everyday!
That's my line……! It was seriously fun……!
*Giggle*, that's great! Then, see you at school!
Ah, wa-, wait a minute……!
That is…… Let me say my goodbye for today……!
(Kitagawa-kun…… is hugging me and kissing me on the forehead…...!)
Ki-, Kitagawa-kun……? Haven't we stop pretending to be a couple…….
Ah, we have already stop "pretending" to be lovers but
…… Well…… I, I want to be real lovers with you!
I, it seems that somewhere along the line, I start thinking of Mokona as someone special.
I did realise that it was love but I didn't want to restrain you…….
That's why, I was thinking that it would be nice if I'm going out with you or something!
But, when we were pretending to be lovers, my feelings changed……!
Now, my feelings include the wish of becoming you boyfriend.
I love you, so much that I can't help it! This is the first time I felt like this…….
I, no matter what happens, will make you happy……!
That's why, well……. W-, will you make me your real boyfriend?