Step 1
Step 2
Step 3
[夢中になる味] Engrossing Taste
Thanks to Jin for Proofreading
Chapter 1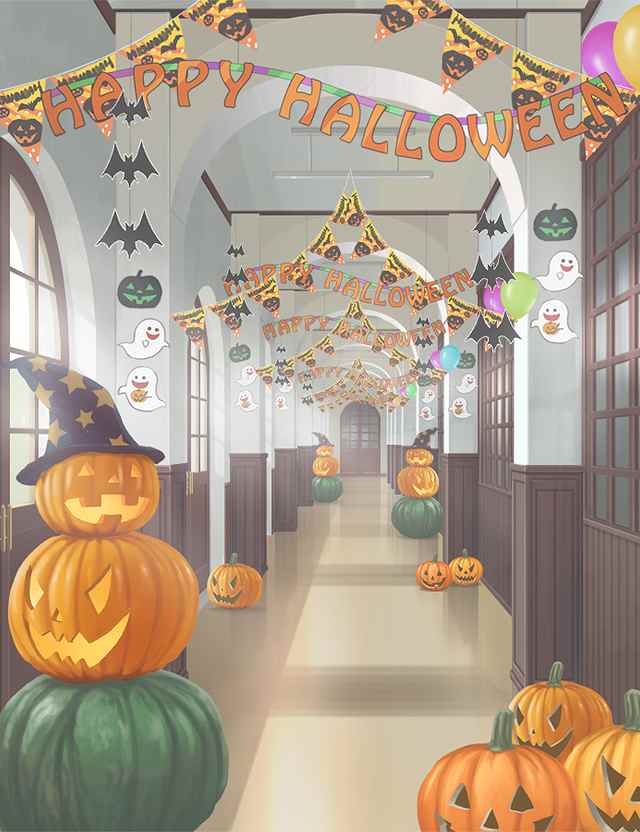 Ōhashi Moko
(Today is Halloween! Everyone are all excited and dressed up in costumes!)
Oh, isn't it

Moko

? Are you 『Wizard of Oz』's Dorothy?
It suits you and you look cute~!
Really? Thank you for the compliment!
If you're Dorothy, it would have been better if I'm the Lion~.
*Giggles*, but then, we still won't have everyone from『Wizard of Oz』.
Ah, in that case, maybe we can ask

Natsuki

to be 『Scarecrow』and

Kengo

to be 『Tin Woodman』.
Then we'll have the perfect 『Wizard of Oz』 team!
*Giggles*, the casts sounds interesting!
I have a pretty good sense for casting roles, right?
Even so, you really are cute~!
Even your hair is like the real Dorothy's!
……Ah, your hair ribbon came loose you know? I'll tighten it for you!
……With this, it's done! Yup, you're definitely the cutest Dorothy!

Chapter 2
Ōhashi Moko
You look great in that cat costume too!
Is there a reason you chose a cat?
Yeah, I wore this because I want to start over!
I've been doing this Halloween thing since I became aware of my surroundings!
Every year, I've been dressing up at the orphanage before I was adopted by my current parents but even after I was adopted, I go there all the time!
So I've been trying on every possible costume up until now.
This year, I couldn't think of a costume to wear so I decided to wear the first costume I wore!
That means your first costume was a cat, right?
Ōhashi Moko
Participation in Halloween every year since you were young sounds fun.
I don't know Halloween very well either so I'm kind of envious.
In that case, let this Halloween Master teach you various things.
Let's enjoy this Halloween day to the fullest together!

Chapter 3
Ōhashi Moko
When talking about Halloween, of course the one thing we look forward to the most is the confectionery!
Well get some if say 『Trick or Treat』 to the teachers.
Kazuki-sensei is over there so let's go get some immediately!
Wo~w! Kazuki-sensei sure gave us a lot of baked sweets~!
Isn't this that super expensive one~?
Yup, it's a sweet from a famous pastry brand.
I received them as a gift before but it was surprisingly delicious that I didn't leave a scrap behind!
Holy, are you serious~!? It just means that it's just that delicious right?
I've always wanted to try one of these once~!
Al~right, I must try to eat this quickly~! ……Hmm? Hmmm!?
…… It's delicious! It's too delicious! It's overly delicious~……!
*Giggles*, goodness,

Kitagawa

-kun. You have crumbs all over your face you know?
Crap, I was too engrossed in eating! Erm, where is it?
Oh……! Yo-, you removed it for me? Hehe, thanks……!
There are game booths outside and it seems that there are various types too~!
You're right and they all look fun!
When I was a kid, I often play 『Apple Bobbing』!
Is that perhaps a traditional Halloween game?
Yup! It's a game where the apples are spread out in the bucket of water and only using your mouth, you scoop up the apples.
It's actually much harder than it looks~!
When talking about Halloween, pumpkins normally has a stronger image but it seems that those abroad never forget to include the apples too!
I see, I never knew……! You really know it well!
Hehe, didn't tell you? That I'm the Halloween Master!
Halloween Executive Committee
Hey there Oohashi-san,
Kitagawa
-kun.
There's an apple peel fortune telling over there, want to try it out?
Eh, apple peel fortune telling……!?

Chapter 5
Kitagawa Shouta
Apple peel fortune telling is also one of Halloween's traditional divination!
I see. But what kind of fortune telling is it?
It's a divination where you peel the apple without breaking the peel then throw it over your shoulder and the peel will show a shape.
The peel seems to take the shape of the person's future spouse's initials.
I've never really tried it before but the teacher at the orphanage taught me.
Really? It sounds interesting. Since we're here, let's try it.
Halloween Executive Committee
In that case, peel this apple without breaking the peel.
Okay, I understand! Without breaking it, without breaking it……――
Oh, you're skillful~!
If I did it, the peel might break off into pieces halfway through~.
*Giggles*, that's because I'm doing it cautiously. ……With this, it's done……!
Oh, a perfect peel. In that case, throw it over your shoulder!
Throw it to the back right? Here we, go!
It dropped to the ground! Oh, isn't this……!

Chapter 6
Ōhashi Moko
It's shaped in…… perhaps an 『S』?
Ooh……! Yes~! It's an 『S』ーー!
Well, that's because my name is 『
Shouta
』! Aren't I a respectable 『S』?
Doesn't that make me a candidate for your future husband~!?
Just the thought about it makes me want to jump with happiness!
*Giggles*, it's only a divination so we don't know how the future will turn out, right?
Even though you're laughing like that, I think that it's not uncommon to not be able to ridicule it when it happens.
It's said that fortunes told on Halloween are pretty accurate!
That's because Halloween Day is the day where magic is the strongest.
It's easier for divinations to be more accurate and it's easier for wishes to come true.
So that means the divination just now has a higher chance for success?
That's right! It possibly that we'll get married in the future!
Alright! Maybe I should make a wish that the divination is a success!
T/N: There's around 6 guys in BF series with names starting with "S"
Saku, Shouta, Seishirou, Shu, Senji, Shin (Not counting those surnames with "S")
⅙ chance that it'll hit Shouta…
PLEASE CREDIT BACK TO THIS SITE IF YOU USE MY TRANSLATIONS AS REFERENCE FOR YOUR OWN TRANSLATIONS!!!